Click here to download the routes from RideWithGPS.

Your ETR 2017 hosts, Teams Hollinger and Potier-Bell, have been busily scouting some terrific riding in the Upper Valley. There's no avoiding some hills, but we'll reward your climbs with iconic rural New England vistas: Lazy rivers, majestic peaks, rolling farmland dotted with cows, quiet country roads, postcard-perfect covered bridges. Each day's ride includes at least a few miles on very navigable dirt.
Here's a taste of what you can expect.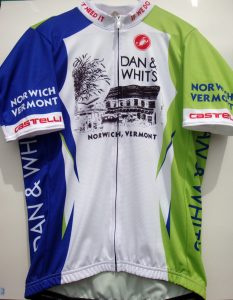 Those arriving ready to ride on Friday will spend most of the day in Vermont, pedaling through farmland and the quaint towns of Norwich, Pomfret, Woodstock and Quechee. Stretch your legs at the Simon Pearce glassblowing studio in Quechee — don't miss the glassblowing demonstrations below the shop! At the other end of the price spectrum, Dan and Whit's store in Norwich is your one-stop-shop for groceries, hardware and knick-knacks. Come for artisanal cheese, stay for the extensive collection of muck boots and Johnson Wool work pants.
Saturday's ride is an Upper Valley classic: We'll cross into Vermont and head north along the Connecticut River, then turn south into New Hampshire. Choose your distance by which bridge you cross. Our rest stop will be at the Fairlee Town Common, with a water stop on a cyclists-only section of road in Lyme, N.H. King Arthur Flour will host us for lunch.
On Sunday, we'll stay in New Hampshire, riding through Etna and Enfield to Mascoma Lake. Returning along the lake's western shore, we'll pass the Enfield Shaker Museum, home to three "families" of Shakers at its peak in the mid-19th century. Roughly five miles of this route is on the Northern Rail Trail, a packed-gravel off-road path that provides terrific views of the lake (as well as a pancake-flat respite from hills!).