Officers
| | | |
| --- | --- | --- |
| Role | Name | eMail* |
| President ( interim )  | Susan Hollinger | president at easterntandemrally.org |
| Vice-president | (open)   | vicepresident at easterntandemrally.org |
| Treasurer | Cheryl Prudhomme | treasurer at easterntandemrally.org |
| Secretary | Maggie Cole | secretary at easterntandemrally.org |
| Comptroller & Auditor | Brenda Isherwood | auditor at easterntandemrally.org |
| Historian | open |   |
| Merchandise Manager | Dan McKee | merchandise at easterntandemrally.org |
| ETR Board Member at Large (2015) | Beth Potier |   |
| ETR Board Member at Large (2015) | Nan Steketee |   |
| ETR Board Member at Large (2014) | Ross Glasgow |   |
| ETR Board Member at Large (2016) | Opal Goff |   |
| Webmaster (non officer) |  Mike Bianco |  webmaster at easterntandemrally.org |
* Change "at" to "@" to email us.
Biographies
ETR President (interim)
Susan Hollinger
Welcome to the ETR  from your Board of Directors. Like many "back of the bikers" I got hooked on tandem cycling when I realized I could keep up with my husband David on rides if we were on the same bike! The big plus was being able to chat without our 3 children (then in their early teens) over-hearing us. ( Of course it is usually me talking and  David "sort of listening)" .We enjoy wonderful escapes on the beautiful scenic byroads of New Hampshire. We started on a Burley that saw 15 years hard riding then stepped up to a Calfee when we 'just happened" to have our checkbook with us when we visited the Calfee manufacturing shop in Santa Cruz California!  I hosted ETR 2008 in Durham NH, and am currently putting together ETR 2017 in Hanover NH with Beth Potier. I have been on the board as VP under the capable leadership of Caren Bianco for the past 3 years and will be filling in now that Caren has stepped off the board due to her (very ) busy travel schedule with the tandem tour  company she and her husband have started.  I work in women's health care as a NP, love to hike, ski, row and run when I am not cycling. David and I ride with our  local club the NEWTS (New England Wicked Tandem Society).
ETR Treasurer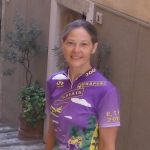 Cheryl Prudhomme and her husband Mark bought their first tandem in 2001 and have been enjoying riding with the local tandem club – the Doubles of the Garden State (DOGS), as well as at ETR and MATES since then. They currently own a Bushnell coupled bike and a Calfee Tetra. They went on their first international biking trip to Italy in 2016 with the Bushnell. They hosted two MATES rallies (2008 in Flemington and 2015 in Clinton). Cheryl is currently retired from Chubb Insurance Company.
Secretary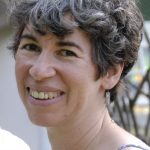 Maggie Cole and her husband, Jim Scally, have been tandeming since the early 2000s. They attended their first ETR in 2011 and were immediately hooked, traveling to Spring Thaw, MATES and ETR in 2012. While Maggie still prefers the stoker seat, she has recently been enjoying learning how to captain, and the two have been known to spontaneously switch seats mid ride. Jim and Maggie live on Cape Cod and have, between them, four children and four grandchildren.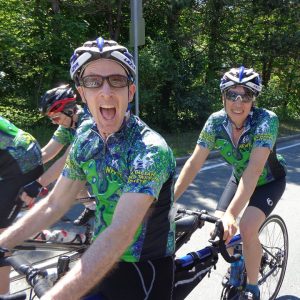 Comptroller & Auditor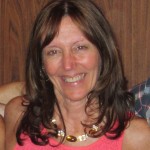 Brenda Isherwood and her husband Larry (TeamBreeze) started tandeming in 1996 on their Burley Duet before they were married. They jumped right into the tandem world, first being volunteers for the 1997 ETR and most recently the 2013 ETR both in NJ. They are founding members of the DOGS (Doubles Of the Garden State) Tandem Club of NJ which was formed after the '97 ETR and are very active members.
Larry is the artist for the DOGS club jerseys, the 1997 & 2013 ETR jerseys and the Dirty DOGS club jersey with Brenda handling the design portion of two of these jerseys.
They have two children, Amy & Matt, whom are now adults. Their daughter and her husband, Jay, mountain tandem and are also DOGS club members.
Brenda is the Office & Accounting Manager at the same company since 1991. Larry has been a diesel mechanic at the same company since 1978 and is a great bike mechanic.
They still own the Burley and use it to take their shih tzu, Barkley, for trailer rides. They've owned two Co-Motions, with their current one being a Macchiato. They also got into off-road tandeming in 2008 and own two mountain tandems, a Ventana Full Suspension and a Fandango Hard tail.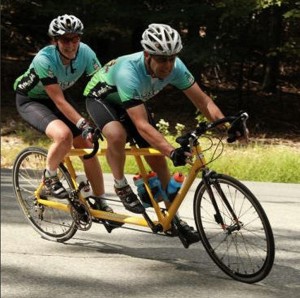 ETR Board Member at Large
Beth Potier has been tandeming since 2002, when she and her boyfriend rented a tandem on vacation, loaded it with 50 pounds of touring gear, and rode it straight up a mountain. Adhering to the wisdom "Wherever your relationship is headed, a tandem will get you there faster," she married the captain of that ill-advised trip, Brent Bell. They ride a 1985 Bob Jackson tandem they purchased at a garage sale. Several years ago, they kicked their son Holden out of his Burley trailer and made him stoke his own weight, adding a Hokitika triplet to their quiver. In her day job as a writer at the University of New Hampshire, Beth's office is in the former conference center that hosted the 2008 ETR in Durham.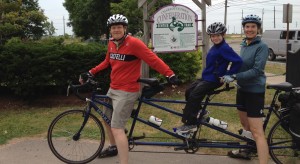 ETR Board Member at Large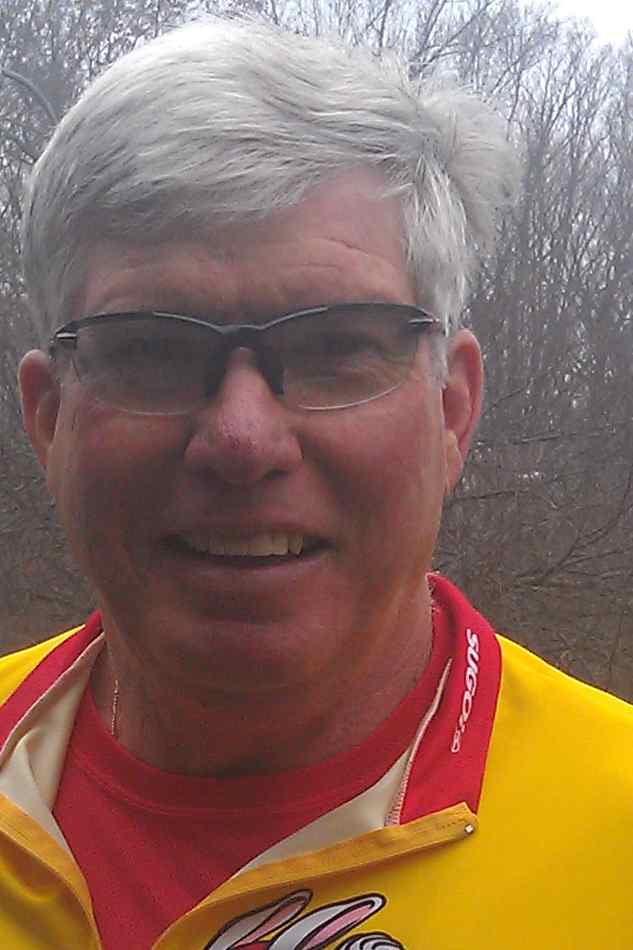 Ross Glasgow, an avid bicyclist since 1990, hails from Bowie, Maryland and been involved with the ETR board since 2005. He and his wife, Donna, purchased their first tandem in 1994 and since 2000 have participated in many multiday tandem events and rallies in various parts of the US and Canada. In addition, they have toured with other fellow tandemists in France, Germany, Italy and New Zealand. Ross and Donna have thoroughly enjoyed attending these tandem events and look forward to many more.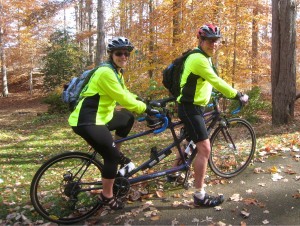 Webmaster

Mike and Caren Bianco decided to buy their first tandem in 2005 without ever having ridden one before. Slow on the uptake, however, it took them six years to discover tandem rallies. They attended their first tandem rally in 2011 in Storrs, CT. Inspired by their new tandem friends, they now own four tandems. Whether on or off-road, Mike and Caren try to get out riding every chance they get. They are active members of the Doubles of the Garden State (DOGS) and are the organizers for the 2013 and 2016 rallies. The now run Adventures In Tandem, a tandem travel touring company.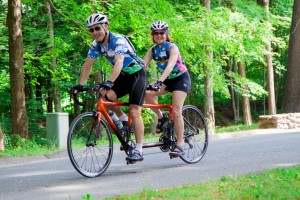 Save