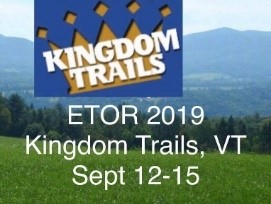 The 2019 ETOR Rally will be held Thursday – Sunday 9/12-15/2019
at Kingdom Trails in East Burke, VT
Registration is now open and available here
ETOR 2019 will be held at Kingdom Trails in East Burke, VT.
We plan to host this as year as a more traditional/simple ETOR with gatherings at camp & dinners under the pole barn at camp.  Dinner on Thursday will be "on your own", Friday pizza dinner will be hosted by MTB Tandems, and Saturday will be a bring a dish to share.  ALL Lunches & drinks will be BYO!!  Also, bring your camp chair & bug spray!
A big shout out THANKS to Alex Nutt at MTB Tandems who will be sponsoring the group Friday night pizza dinner !!!
The registration cost of the rally will be quite inexpensive, at $50/per team to cover cost of what ETOR will provide; the insurance, firewood, name badges + ALL dinner paper goods (plates, utensils, napkins, cups) & any miscellaneous items.
Kingdom Trails is a charitable non-profit conservation organization, working with over 55+ private landowners providing the trails for the public to enjoy.  The cost of the trail pass is $15/day or $75/year & includes a large detailed trail map. The trail pass and map is NOT included in the ETOR cost and will be the responsibility of each team to secure.
Main lodging is at Moose River Campground in nearby St. Johnsbury, VT with a discounted rate for our ETOR group. We will arrive a day early at camp on Wednesday and depart a day late on Monday & we hope to see you at camp and on the trails in September!
Mountain tandem rentals are available from Alex Nutt at MTB Tandems, phone # 678-445-0711.
Please contact Alex in advance to ensure you secure a demo/rental of your choice.
If you purchase a tandem within 30 days of the event, the rental fee will be waived.
http://mtbtandems.com/contact/
We will ride for four days at Kingdom Trails!  They have over 100 miles of well-marked trails for all skill levels.
These trails have been voted the BEST trail system in VT many times & is a mountain biker must do bucket list trail system! There are many different types of trails from easy to difficult to some with fun features.
They also have a FUN downhill trail system on Burke Mountain that we can ride one day if there is enough interest.!!
In town where the trail system is, there is a bike shop, ample parking, showers, flush bathrooms, a tiki bar, food truck, general store, ice cream shop, a few restaurants, and a river to enjoy and cool off in.
On the trail system, there is a trailside bike shop with beer, wine, cider & snacks, plus a food truck.
On Old Webb's trail, there is The Market Cafe on weekends with food and drinks.
There is also The Chapel on the hill that is always open and welcomes bikers.
Moose River will be our main lodging location. It is a small family owned, adult-oriented campground with half the sites having the Moose River directly behind them. It is a pleasant 14 mile/25-minute drive on country roads to the trail system.  All sites have electric, water, sewer, cable and Wi-Fi. They also have two RV's and one cabin available for rent.
They also have 4 tent sites on the riverfront. Discounted rates per site type are listed below under "Lodging".
The camp owners welcome our group and are blocking the non-seasonal sites for our event for us.
Call Mary at the campground after January 1st 2019 to reserve your spot.  Tell her you are with the ETOR Rally.
Alternate lodging listed below under "Lodging" in St. Johnsbury or East Burke; from hotels, B&B's to The Burke Lodge.
Riding:
Kingdom Trails Main Page Link where you can get your day or year or family pass ahead of time if you like.
https://kingdomtrails.org/
KT Info Link:
https://kingdomtrails.org/trails/mountain-bike-trails/
Burke Mountain Bike Park web link:
https://skiburke.com/mountain-biking/the-trails/burke-mountain-bike-park/
Registration Fees:
The ETOR 2019 registration fees are $50/per team.
Lodging:
Moose River Campground in St. Johnsbury, VT is the main group lodging with an ETOR 2019 Group Rate 15% discount.
Please be sure to understand their cancellation policy before reserving.
Make your reservations after January 1st 2019 by calling Mary at 802-748-4334.
Website: https://mooserivercampground.com   Facebook site: https://www.facebook.com/MooseRiverCampground
Tent sites w/electric:  $29.75/daily, $34.00/weekend, $185.30/weekly.
30 AMP River: $35.70/daily, $39.95/weekend, $226.95/weekly.
50 AMP Pull Thru: $40.80/daily, $45.05/weekend, $253.30/wkly.
Cabin/RB river site: $106.25/daily or weekend, $692.75/weekly.
If camping is not your thing there is lodging in St. Johnsbury or Burke, VT. 
The two main hotels are The Comfort Inn & The Fairbanks Inn.
The Burke Mountain Hotel & Conference Center is in East Burke & has a group rate starting at $119.20.
Call them at # 1-866-966-4820 and mention Group #36315.
An internet search for either town will give you other alternate lodging opportunities including B&B's.
Preliminary Itinerary:
Thursday:  Ride time TBD based on team arrivals.  Most likely a morning and an afternoon ride.
Dinner "on your own".  Group campfire at dark 🙂 
Friday:  Ride time 10am.
Group Pizza dinner (time TBD) sponsored by Alex Nutt of MTB Tandems !!!  Group campfire at dark 😆 
Saturday:  Ride time 10am
Dinner:  time TBD:  bring a dish to share under the large campground pole barn.
HUGE campground PALLET campfire at dark !!!!  :-0
Sunday: Ride time: 9am, For those that stay the evening: Dinner on your own, group campfire at dark 😎 
Some nearby things to do/see to mention just a few are:
In St. Johnsbury, VT: The Lamoille Valley Rail Trail, DOG Mountain & Chapel, Maple Grove Farms.
In Cabot, VT: The Cabot Creamery which does tours which is about a half hour drive from camp.
ALL IMPORTANT INFORMATION will be sent to registrants via a group email.
You can always e-mail tmbreeze@optonline.net or call Brenda at cell# 973-229-5368.
Please JOIN our ETOR Rally Facebook Page

Happy Trails from Your Hosts, Larry & Brenda Isherwood