Suggested Restaurants for ETR Williamsburg 2018
Lunch on Friday
Lunch on Friday is on your own. If you are having lunch either before or after the ride, these restaurants are on the way to or from the remote start at Chickahominy Riverfront Park:
At Newtown in James City County
Williamsburg Shopping Center area
If you are having lunch during the ride, there are three options depending on which route you choose:
Dinner on Friday
Dinner on Friday is on your own, and we suggest walking from the Hotel to one of the 20 restaurants in the Historic Area, Merchants Square and adjacent commercial areas (approximately one mile from the Hotel to Merchants Square). Your walk will take you down the Duke of Gloucester Street, one of the most historic streets in America. Following dinner, join us at the nearby Williamsburg Community Building (401 North Boundary Street) for our Ice Cream Social from 7:00-8:30 p.m. Following the Ice Cream Social, you can walk to nearby Merchants Square and take the free shuttle bus back to the Hotel. 
If you decide to ride your bike to dinner, there are plenty of tandem friendly bike racks throughout Merchants Square and the adjacent commercial areas. There are no bike racks in the Colonial Williamsburg Historic Area however. If you decide to drive, there is plenty of parking in the Prince George Parking Garage on North Henry Street ($1/hour) and in Lot P6 at the corner of Francis Street and South Henry Street ($2/hour). There is one hour free parking in the close-in parking lots, but they are frequently full and parking limits are enforced. There is also free parking with no time limit after 5:00 pm adjacent to the Community Building, in the nearby Williamsburg Library lot and around the Library Plaza.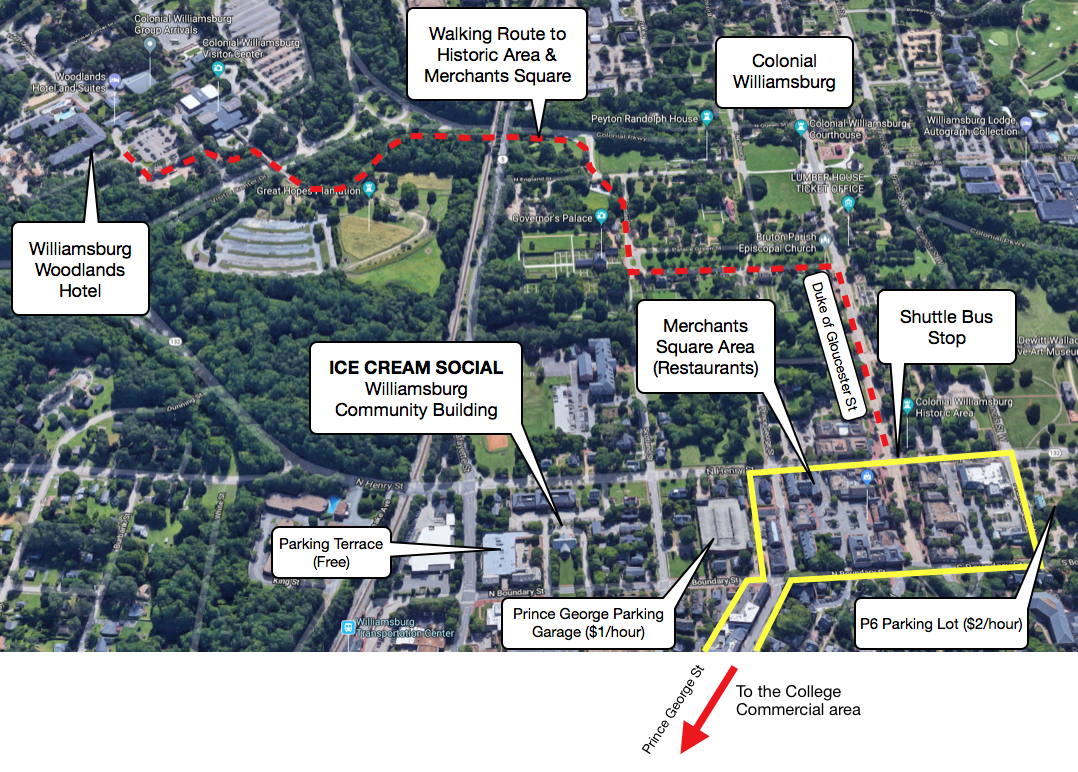 The closest restaurant, right behind the Hotel:
For an authentic Colonial experience, Colonial Williamsburg has four restaurants in the Historic Area:
There are a wide variety of restaurants in the Merchants Square area, and here are some of the best:
For an authentic College of William and Mary Delly (or Deli) experience, there is a cluster of restaurants a few blocks west of Merchants Square and across from the College.
The old standbys:
The newcomers: