ETR 2019
We are excited to announce the 2019 Eastern Tandem Rally will be held June 28th to 30th at the 'Four Points by Sheraton Wakefield Boston North Hotel and Conference' in Lynnfield, MA. Technically, this is in Wakefield, but it's on the North side of the highway so we'll call it ' Lynnfield'.  The hotel adjoins an outside shopping mall with many nice restaurants and a bowling alley.  Our rides all leave through the mall's traffic light onto a quiet road leading to Boston's North Shore.   
Hotel/Reservations:  The hotel will be the Sheraton Four Points Hotel, conveniently located off I95/128N.  There is a group reservation under "Eastern Tandem Rally".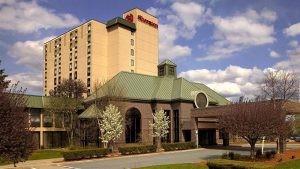 Hosts:  Your hosts will be Chanda and Dan McKee.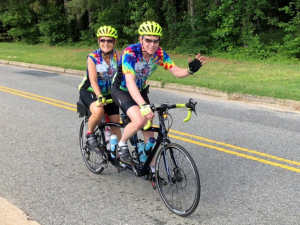 Summary:   Boston's North Shore is filled with bedroom communities, ice cream shops, marshlands, beautiful beaches, golf courses, small working farms, and small elevation changes akin to molehills.  Along the shoreline there are sporting and working harbor towns home to lobster boats, fishing fleets, whale watch boats, sport fishing boats, sailboats, and kayaks. There are infamous towns like Salem, Gloucester, Manchester by the Sea, and Newburyport.  The Peabody-Essex Museum, Salem Witch Museum, and the Plum Island National Wildlife Refuge are all worthwhile visiting.  Boston itself, with Old Ironsides, Boston Public Garden, Harbor Cruises, Museum of Science, Museum of Fine Arts, Fenway Park, Freedom Trail, Faneuil Hall, and the Italian North End, are only 17 miles from the hotel, taking 30 minutes in light traffic.    
We'll be hosting ETR 2019 at the Four Points Hotel along Rt 128 (I-95).  It's adjacent to The Boston Sports Club where we can use the exercise equipment and shower after Sunday's ride.  There will be room for storing bikes at the hotel.  The hotel's banquet hall will handle daily breakfasts and Saturdays banquet dinner and entertainment.  Saturday lunch will be at Bradley Palmer State Park served under a tent.  Routes will take us North from the hotel into the quieter areas, along lakes, farms, and through town squares. Friday rides will be a remote start to the north exploring the Newburyport and Merrimack River areas. 
Area Bike shops: 
Belmont Wheelworks, 480 Trapelo Rd, Belmont, MA  617-489-3577
Cycle Loft, 43 Middlesex Turnpike, Burlington, MA  781-272-0870
REI, 279 Salem St, Reading, MA  781-944-5103
Seaside Cycle, 23 Elm St, Manchester by the Sea, MA  978-526-1200
Riverside Cycle, 50 Water St, Newburyport, MA  978-465-5566