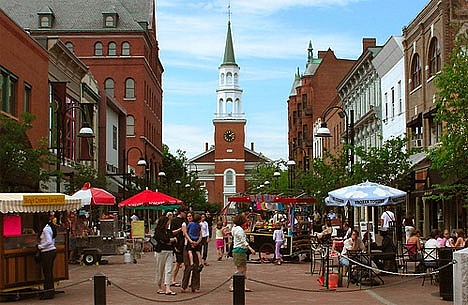 Things to Do / Dining
You will not be hungry, thirsty or bored in the Burlington area! Below are some dining and activity suggestions thoroughly vetted by your hosts. Please keep in mind  because Burlington is a hopping place in the summertime it is important to make restaurant reservations if allowed. Parking on Burlington downtown streets can be a challenge, there are four parking garages available and they are well marked.
Seven Days is a free newspaper distributed on Wednesday of each week. It's also online and is a great source for what's happening, where to dine and what to see in the Burlington area. Click here: Seven Days
Please feel free to contact Susan or Sal if you have questions or require more info. 
Other possible resources are Yelp, UrbanSpoon, and the Seven Days Bite Club.
Places to Eat:
Breakfast/Lunch
Dinner:
The Scuffer Steak and Ale House
A Single Pebble   (Try the Mock EEL)
Note: Vermont has the highest number of micro brews per capita in the country!!
Vermont Brew Fest. Sells out fast, Tickets go on sale May 15th
You can spend as little or as much time as you want here -good for all ages.
Robert Hall Fleming Museum  UVM Campus
Echo Lake Aquarium & Science Museum – for Kids!!
South Burlington Recreation Parks
Burlington has a vibrant music scene, offering a wide range of genres. Many venues offer live music on weekdays as well as weekends, and most of them serve food as well. To name a few venues:
Nectar's  Gave the band Phish their start!
The list below is only a sample of what's in this area for you to explore: 
Centennial Field (Pro Baseball)
Flynn Center for the Performing Arts
Frog Hollow Vermont State Craft Center
Lake Champlain Chocolate Factory
New England Mountain Bike Association
Lake Champlain Guides