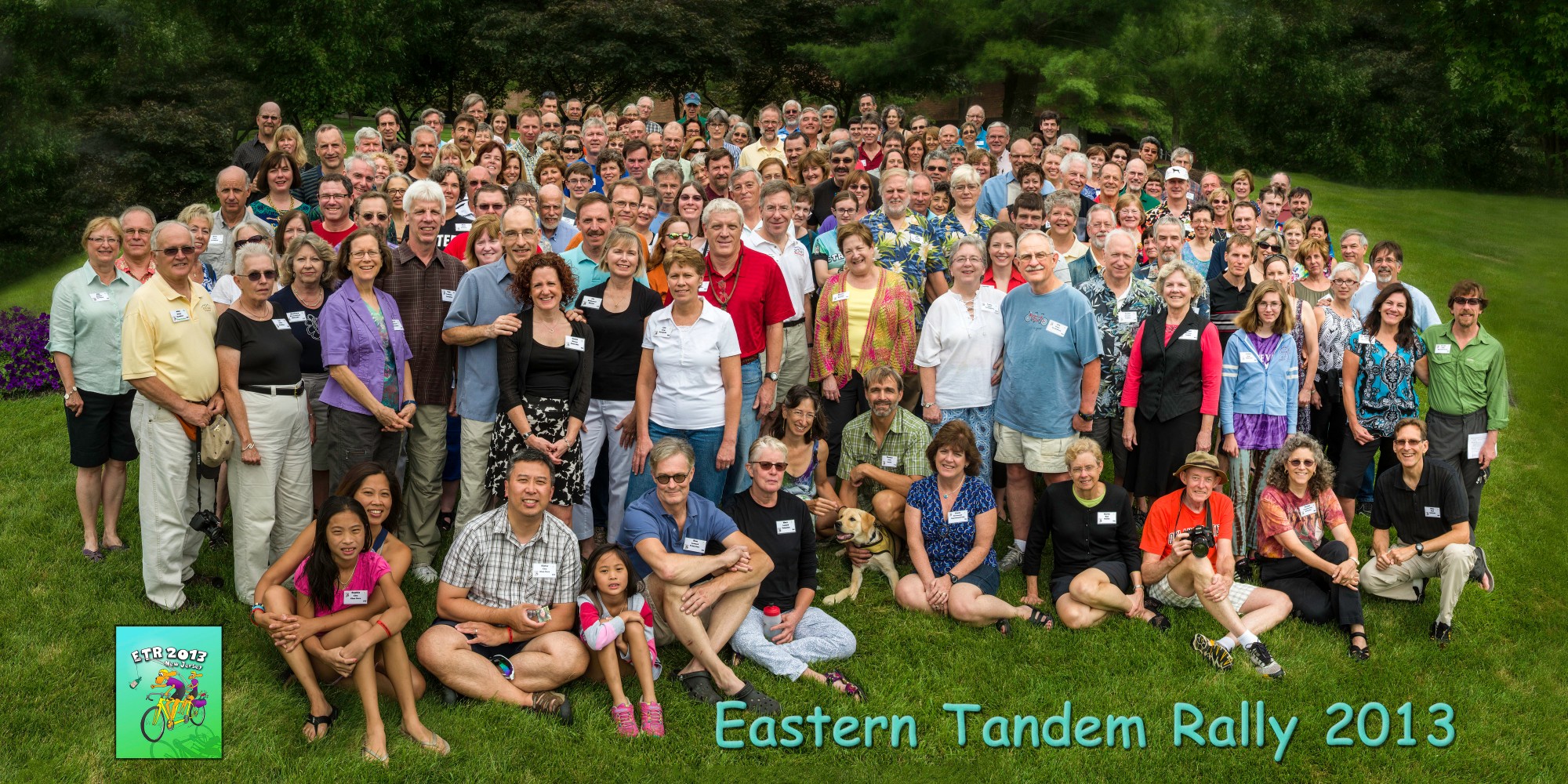 Click on the above for a larger image. — Download the hi-res picture (9 megs).
Knapp and Ella Hudson were the official photographers for the 2013 ETR.  All of their pictures from the rally can be found here.
Several other teams contributed their pictures also. They can be found here.
Attendees
Abram and Leigh Dancy
Adam Moskowitz and Opel Goff
Alan and Jayne Yockey
Alan and Joann Curtis
Alan and Lee Dolan
Andy and Kerry Loftus
Bernie and Betsy Carlson
Bill and Cait Ruhling
Bill and Peggy Morris
Bob and Kris Brown
Brennan and Beth Wall
Brent Bell and Beth Potier
Brian and Audrey Elkinson
Brian and Jeanne Hanson
Bruce Wells and Anne Hintermeister
Carol and Bob Anderson
Carol and Richard Zweifel
Cary and Sara Sennett
Chandra and Dan Mckee
Chuck Dye and Bonnie Doyle
Curt and Dona Haltiwanger
Cynthia and Philip Therrien
Dan and Georgia Steinbecker
Dan and Jean Leonard
Daniel and Annette Hurley Jr.
Dave and Janet Heilman
Dave and Susan Hollinger
David and Brenda Jaffe
David and Lisa Siegel
David and Nancy Clayton
David Snope and Susan Nicolich
Denise Schaeffer and Charles Planck
Diane and Tom Tschantz
Drew and Robin Boniface
Ed and Karen Hass
ED and Laurie Barr
Ed and Liz Beldowski
Edward and Patricia Troike
Ella and Knapp Hudson
Finlay and Mary Ferguson
Frank and Jackie Farrugia
Fred and Rene? Neibauer
George and Kimberly Domin
Glenn and Susan Orcutt
Greg and Karen Przybyl
Greg and Lyn Long
Hal and Barbara Blumenthal
James McGarry and Lyn Pohl
Jamie and Karen Scharff
Jeff Winick and Wendy Samuelson
Jennifer and Peter Petrocelli
Jim and Kelley Odorisio
Jim and Louise McDermott
Jim and Paula Fines
Jim and Sari Rosokoff
Jim Pastorick and Kim Green
Jim Scally and Maggie Cole
Joe Moreno and Lisa Celona
Joe Scheneck and Dawn Casey Scheneck
John and Lee Vermeulen
John Gabinelli and Linda Seveneant
Jon and Teri Mullen
Joseph and Barbara Rudolph
Joseph and Kathleen Marino
Judy Allison and Malcolm Boyd
Karl Miller and Susan Eisenstadt
Ken Williamson and Lora Miller
Kris and Eva Chirapongse
Larry and Brenda Isherwood
Leonard Diamond and Kathy Hecht
Lori Lynn Bauer and Darmon Meader
Mark and Leslie Henebry
Mark and Lisa Gobel
Mark Cucuzella and Cheryl Prudhomme
Mel and Barbara Kornbluh
Michael Angeley and Karen Heitzman
Michael Barber and Barbara Chudanski
Michael Bopf and Bonnie Chamberlain
Mike and Caren Bianco
Mike and Carol Vilardo
Mike Saft and Candace Cotton
Neil and Fran Toombs
Norman and Janice Haber
Norman Frendberg and Sally Cramb
Paul and Amanda Ricard
Paul and Jane Kimmel
Paul and Joyce Vyriotes
Paul and Linda Cooney
Paul Malarcher and Sammi Sherwin
Paul Mararcher and Sammi Sherwin
Paul Marchese and Jennifer Kirsch
Phil and Bobbi Schmidt
Phil and Marge Bryce
Ray and Kristie Foos
Renee and David Strauss
Rich Brookler and Debbie Ungerleider
Ricky Chu and Kristine Chin
Robert and Harriet Voysey
Robert and Sonja McCann
Ron and Mary Lessard
Ross and Donna Glasgow
Sal and Carolyn Defrancesco
Sandy and Linda Morrison
Scott and Nan Steketee
Stan Sunderwirth and Jenny Keenan
Stephen Still and Terrie Tucker
Steve and Barbara Hall
Steve Powell and Marie Synnestvedt
Stu and Jane Shakman
Thomas Fritz and Beryl Brodsky
Tom Ghan and Cheryl Feather