ETR 2019
Registration for ETR 2019 is FULL.
We are excited to announce the 2019 Eastern Tandem Rally will be held June 28th to 30th at the 'Four Points by Sheraton Wakefield Boston North Hotel and Conference' in Lynnfield, MA. Technically, this is in Wakefield, but it's on the North side of the highway so we'll call it ' Lynnfield'.  The hotel adjoins an outside shopping mall with many nice restaurants and a bowling alley.
Hotel/Reservations:
The hotel will be the Sheraton Four Points Hotel, conveniently located off I95/128N.  There is a group reservation under "Eastern Tandem Rally".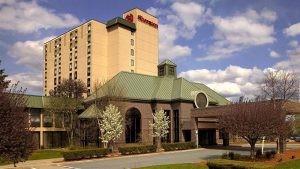 Schedule:
Friday, June 28, 2019
| | | |
| --- | --- | --- |
| Time | Place | Description |
| 9:00 am | Boxford | "Fast 50" ride led by Joe & Kathy Marino |
| 10:00 am | Boxford | "Relaxed 42" led by Jim & Paula Fines that includes a lunch stop In Newburyport |
| Anytime | Multiple | On your own – suggested rides listed below |
| morning – 11:00pm | Colonial Essex Room | Bike Storage |
| 9:00am – 8:00pm | Colonial Wakefield Room | Registration & Hospitality |
| 7:00pm – 8:30pm | Colonial Ballroom | Ice Cream Social |
| 7:00pm – 9:00pm | Colonial Ballroom | Meet and Greet |
Saturday, June 29, 2019
6:00am – 6:00pm
Colonial Essex Room
Bike Storage
6:30am – 8:00am
Colonial Ballroom
Breakfast
9:00 am

Essex North Shore Agriculture & Technical School**

**NOTE: Please park in LOT F

Remote Start
11:00am – 1:30pm
Bradley Palmer State Park
LUNCH
12:00pm
Bradley Palmer State Park
Group Picture
2:00pm – 5:30pm
Colonial Ballroom Foyer
Swap Meet
4:30pm – 5:30pm
????
ETR Business Meeting
4:00pm – 9:00pm
Colonial Ballroom Foyer
Snacks and bar
5:45 pm
Colonial Ballroom
Doors open for dinner
7:30pm – 9:00pm
Colonial Ballroom
Live music and Contra Dancing
Sunday, June 30, 2019
6:00 am
Colonial Essex Room
Bike Storage opens
6:30am – 8:00am
Colonial Ballroom
Breakfast
?
Colonial Hotel
check out *keep one key to use pool and 
shower facilities at the adjacent 
Boston Sports Club
9:00 am

Gordan College Ferrin Parking Lot

Remote Start
12:00pm – 2:00pm
Colonial Hotel
Box Lunch
Hosts:
 Your hosts will be Chanda and Dan McKee.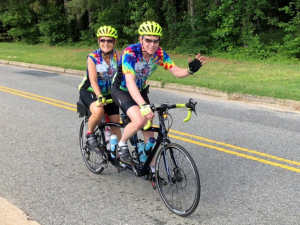 Summary:
Boston's North Shore is filled with bedroom communities, ice cream shops, marshlands, beautiful beaches, golf courses, small working farms, and small elevation changes akin to molehills.  Along the shoreline, there are sporting and working harbor towns home to lobster boats, fishing fleets, whale watch boats, sport fishing boats, sailboats, and kayaks. There are infamous towns like Salem, Gloucester, Manchester by the Sea, and Newburyport.  The Peabody-Essex Museum, Salem Witch Museum, and the Plum Island National Wildlife Refuge are all worthwhile visiting.  Boston itself, with Old Ironsides, Boston Public Garden, Harbor Cruises, Museum of Science, Museum of Fine Arts, Fenway Park, Freedom Trail, Faneuil Hall, and the Italian North End, are only 17 miles from the hotel, taking 30 minutes in light traffic.
We'll be hosting ETR 2019 at the Four Points Hotel along Rt 128 (I-95).  It's adjacent to The Boston Sports Club where we can use the exercise equipment and shower after Sunday's ride.  There will be room for storing bikes at the hotel.  The hotel's banquet hall will handle daily breakfasts and Saturdays banquet dinner and entertainment.  Saturday lunch will be at Bradley Palmer State Park served under a tent.  Routes will take us North from the hotel into the quieter areas, along lakes, farms, and through town squares. Friday rides will be a remote start to the north exploring the Newburyport and Merrimack River areas.
Jersey's:
  ETR 2019 Jersey order information can be found here.  Note: Jersey's must be ordered by May 3rd.
Cancellation Policy:
Life happens, plans change – we get it.  Cancellations up till May 15th will be fully refunded.  After May 15th we are unable to refund any money due to financial commitments for the rally headcount.
Area Bike shops: 
Belmont Wheelworks, 480 Trapelo Rd, Belmont, MA  617-489-3577
Cycle Loft, 43 Middlesex Turnpike, Burlington, MA  781-272-0870
REI, 279 Salem St, Reading, MA  781-944-5103
Seaside Cycle, 23 Elm St, Manchester by the Sea, MA  978-526-1200
Riverside Cycle, 50 Water St, Newburyport, MA  978-465-5566
Routes:
All Routes and information are available on the ETR RideWithGPS Club Event Website.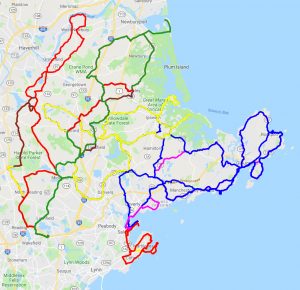 Day-by-Day ride Summary:
Day – Route

Start

Distance

Elevation Gain

THURSDAY, June 27, 2019

START: Four Points by Sheraton Wakefield Boston Hotel & Conference Center, One Audubon Rd, Wakefield, MA 01880

This ride takes us on some of the NEWT's and Joe and Kathy's favorite roads. The apple cider cinnamon donuts at Smolak Farms are always a favorite. These routes take us past and through Harold Parker State Park, within a mile of Joe and Kathy's house, and toward the Merrimack River.

Wakefield

42.5

1798

Wakefield

49.5

2141

Wakefield

66

3000

Note: Start at Ipswich River Park, 15 Central St, North Reading, MA 01864

North Reading

30.4

1469

 
 
 
 

FRIDAY, June 28, 2019

START: Harry Lee Cole School (HLCS), 26 Middleton Road, Boxford MA 01921

These routes take us into our regular stomping grounds. We travel through local towns, past working farms (say hello to the "ladies" at the dairy farm on Dodge Street). Just before entering Newburyport, you'll encounter one of our favorite Strava segments – a gradual 2.4 mile stretch of wide shoulder – keep an eye out for the "bed of flowers" on the right. Newburyport is an awesome place for food,  shops, and the waterfront. The long route will get all the way to Plum Island, a place in jeopardy of washing away one day.

Note: Round Trip from Hotel to Remote Ride Start and Back

Wakefield

31.3

1163

Boxford

25.4

872

Boxford

42.6

1345

Boxford

49.6

1458

 
 
 
 

SATURDAY, June 29, 2019

START: Essex North Shore Agricultural & Technical School, 565 Maple Street, Danvers, MA 01937  (Please park in Lot F)

Easy, mostly flat riding with few hills on the short and medium routes through Danvers, Middleton, Boxford, Topsfield, Ipswich, and Hamilton. Starts out on traveled roads but quickly becomes scenic and less busy. Stop at one of two farm stands for refreshments on Rt 133. The two Long rides take you out to Jeffrey's Neck in Ipswich with bay views. The two Longer routes also have an option for an "out and back" to Crane Estate / Beach on Argilla Rd.

Saturday lunch will be served under a tent at Bradley Palmer State Park.

The Crane Estate is made up of three properties: Castle Hill, a National Historic Landmark that is the home of The Great House, a spectacular venue for weddings and corporate events, guided tours, and programs. Crane Beach, a popular public beach and summer destination; and the Crane Wildlife Refuge, a natural treasure boasting many rare plant and animal species.

Danvers

27.2

1048

Danvers

54.2

2054

Danvers

60.1

2183

Danvers

66.6

2459

ETR19SatLunch17(EA) Note: Ride start to Lunch

Danvers

16.9

671

ETR19SatHotel20(EA) Note: Hotel to Ride Start

Wakefield

20.1

846

 
 
 
 

SUNDAY, Sunday, June 30, 2019

START: Gordon College, Ferrin Parking Lot, 255 Grapevine Road, Wenham, MA 01984, (Gordon Police 978-867-4444). Look for the "Event Parking" signs.

Ride counter-clockwise along the Cape Ann coastline, through Gloucester, out to the Eastern Point Lighthouse and Atlantic Ave, to Rockport and back through Annisquam Village. The short and medium routes return to the start location in Manchester from Essex. The longest option continues to Ipswich before looping back to Manchester. The coastal shoreline offers many scenic vistas by taking short excursions from the route.

Gloucester Harbor: Known as America's oldest seaport, the harbor has supported fishermen, whalers, traders, and even smugglers since 1616. The Perfect Storm, which was filmed locally and featured the beautiful Eastern Point Lighthouse, illustrates a natural danger awaiting those who depend upon the sea for a living — storms. Between 1830 and 1910, 779 vessels and 5,305 persons out of Gloucester were lost at sea. The Gloucester Fisherman's Memorial, located on the edge of the harbor, honors the Gloucester fishermen lost at sea, including 249 that were lost in 1879.

Wenham

30.3

1494

Wenham

38.5

2034

Wenham

47.4

2476

Wenham

54.7

2831

 
 
 
 

EXTRA ROUTES, NO DATE

START: Salem Willows Park, 167 Fort Ave, Salem, MA 01970

This is a ride on the streets of historic Salem and surrounding towns. This ride is for experienced cyclists only. The ride is in an urban environment that in places has narrow streets and may be heavily trafficked.

Marblehead Routes: Terrain is gently rolling with a few hills. The standard ride goes around the Neck then through Old Town in Marblehead.

Salem

13.2

452

Salem

20.2

600

Salem

18.2

728

Salem

22.2

827
Ride with GPS info:
Using ETR Routes from Ride With GPS
To load onto a Garmin or other device:
You do not need to have an account.

Clicking on the route name in the left-hand column (ie "ETR19Thur66") will give you an overview in the map window on the right.  Clicking on "Go to route" will take you to a separate page for that route, where you can read the ride notes in the left-hand column.

If you have one of the newer Garmin devices, you can use the "Send to Device" tab.  Otherwise, under the "More" tab at the top left, you can export the file to then load onto your device.  (There is a link to help page which discusses which format works well for each device, but GPX Track works for most devices.)  

Helpful Hint:   After looking at the overviews of the rides on the main routes page, right click on "Go to route" for each of the rides you are interested in and choose "Open in a new tab."  I find it easiest to open up all the rides I want to download first. If you lose track of where you were, the most recent one you clicked will be underlined. After you've opened a tab for each route that you want to download, click on the rightmost tab, download the file as described above, then close that tab.  You may see the "Send to Device" button (large orange button below the "More" pulldown) change to an "Export" button after the first couple of downloads, as the program recognizes this is likely what you want to do. Continue until all tabs are closed.
To download cue sheets:
Follow the above instructions, but from the "More" tab, click on "Print Cuesheet."
To use the app:
ETR has now upgraded to a Club account, which allows all rally attendees to download and navigate our routes using their free accounts.  

Using a web browser, follow the instructions above, but instead of downloading the routes, click "Pin" in the upper left corner of each route you want to save.

Install the Ride with GPS app on your smartphone and log in (or create an account).

Under the "Routes" tab," click "Pinned" at the top.  The routes you pinned should all be listed. Click the three dots next to each one and choose "Download."  This saves data and battery usage when following the route.

To follow the route, click the three dots next to it and choose "Navigate."

To exit the navigation, press the pause button and choose "Finish Navigation."  You can then either save or delete your ride file.
Massachusetts Bike Laws:
Do you know your rights and responsibilities on the road? Here is a summary of Massachusetts' bike law that covers equipment, riding, safety standards, races, violations, and penalties.
For exact requirements, please read the complete text of the laws pertaining to bicyclists and bicycling in Massachusetts. General Laws of the Commonwealth of Massachusetts, Chapter 85, Section 11B.
Your rights
You may ride your bicycle on any public road, street, or bikeway in the Commonwealth, except limited access or express state highways where signs specifically prohibiting bikes have been posted.
You may ride on sidewalks outside business districts unless local laws prohibit sidewalk riding.
You may use either hand to signal stops and turns.
You may pass cars on the right.
If you carry children or other passengers inside an enclosed trailer or other devices that will adequately restrain them and protect their heads in a crash, they need not wear helmets.
You may hold a bicycle race on any public road or street in the Commonwealth if you do so in cooperation with a recognized bicycle organization and if you get approval from the appropriate police department before the race is held.
You may establish special bike regulations for races by agreement between your bicycle organization and the police.
You may have as many lights and reflectors on your bike as you wish.
Your responsibilities: you MUST do these things
You must obey all traffic laws and regulations of the Commonwealth.
You should use hand signals to let people know you plan to stop or turn, however, signals do not need to be made continuously and you are not required to signal when the use of both hands is necessary for the safe operation of the bicycle.
You must give pedestrians the right of way.
You must give pedestrians an audible signal before overtaking or passing them.
You may ride two abreast but must facilitate passing traffic. This means riding single file when faster traffic wants to pass or staying in the right-most lane on a multi-lane road.
You must ride astride a regular, permanent seat that is attached to your bicycle.
You must keep one hand on your handlebars at all times.
If you are 16 years old or younger, you must wear a helmet that meets U.S. Consumer Product Safety Commission requirements on any bike, anywhere, at all times. The helmet must fit your head and the chin strap must be fastened.
You must use a white headlight and red taillight or rear reflector if you are riding anytime from 1/2 hour after sunset until 1/2 hour before sunrise.
At night, you must wear ankle reflectors if there are no reflectors on your pedals.
You must notify the police of any accident involving personal injury or property damage over $100.
Your responsibilities: you MAY NOT do these things
You may not carry a passenger anywhere on your bike except on a regular seat permanently attached to the bike, or to a trailer towed by the bike.
You may not carry any child between the ages of 1 to 4, or weighing 40 pounds or less, anywhere on a single-passenger bike except in a baby seat attached to the bike. The child must be able to sit upright in the seat and must be held in the seat by a harness or seat belt. Their hands and feet must be out of reach of the wheel spokes.
You may not carry any child under the age of 1 on your bike, even in a baby seat; this does not preclude carrying them in a trailer.
You may not use a siren or whistle on your bike to warn pedestrians.
You may not park your bike on a street, road, bikeway or sidewalk where it will be in other people's way.
You may not carry anything on your bike unless it is in a basket, rack, bag, or trailer designed for the purpose.
You may not modify your bike so that your hands are higher than your shoulders when gripping the handlebars.
You may not alter the fork of your bike to extend it.
Your responsibilities: equipping your bike
Your bike must have a permanent, regular seat attached to it.
Your brakes must be good enough to bring you to a stop, from a speed of 15 miles an hour, within 30 feet of braking. This distance assumes a dry, clean, hard, level surface.
At night, your headlight must emit a white light visible from a distance of at least 500 feet. A generator-powered lamp that shines only when the bike is moving is okay.
At night, your taillight must be red and must be visible from a distance of at least 600 feet.
At night, your reflectors must be visible in the low beams of a car's headlights from a distance of at least 600 feet. Reflectors and reflective material on your bike must be visible from the back and sides.
Penalties
Violations of any of these laws can be punished by a fine of up to $20. Parents and guardians are responsible for cyclists under the age of 18. The bicycle of anyone under 18 who violates the law can be impounded by the police or town selectmen for up to 15 days.
Motorist Responsibilities (see MGL Chapter 89, Section 2 and Chapter 90, Section 14)
Motorists and their passengers must check for passing bicyclists before opening their door. Motorists and their passengers can be ticketed and fined up to $100 for opening car or truck doors into the path of any other traffic, including bicycles and pedestrians.
Motorists must stay a safe distance to the left of a bicyclist (or any other vehicle) when passing. Motorists are also prohibited from returning to the right until safely clear of the bicyclist.
Motorists must pass at a safe distance. If the lane is too narrow to pass safely, the motorist must use another lane to pass, or, if that is also unsafe, the motorist must wait until it is safe to pass.
Motorists are prohibited from making abrupt right turns ("right hooks") at intersections and driveways after passing a cyclist.
Motorists must yield to oncoming bicyclists when making left turns. The law expressly includes yielding to bicyclists riding to the right of other traffic (e.g., on the shoulder), where they are legally permitted but may be more difficult for motorists to see.
Motorists may not use the fact that bicyclists were riding to the right of traffic as a legal defense for causing a crash with a bicyclist.
Motorists may not stand or park in an on-street bike path or lane designated by official signs or marking for the exclusive use of bicycles, except in a case of emergency
Source: https://www.massbike.org/laws
Updated 6/26/19