June 24-26 Shepherdstown, West Virginia
This will be the first ETR-sponsored rally in West Virginia! Don't worry though, we have picked out some of the flattest routes you could possibly find in this Wild and Wonderful place!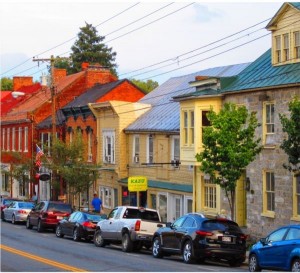 Established in 1762, historic Shepherdstown is the oldest town in West Virginia. Nestled on the banks of the Potomac River, it is located in the Eastern Panhandle of WV, just a few miles west of the Antietam National Battlefield, and north of Harpers Ferry. It has loads of quiet country charm, but it is also home to Shepherd University -which keeps it hip and vibrant. This is such a great riding location that it was selected as the location of the Back Roads Century last year, one of the premier cycling events of the mid-Atlantic region.
Overview
While Friday is the official start of the MATES rally, we will have Thursday ride options for those who can arrive early. There will be no official gathering of any kind on Thursday.
After checking in and riding on Friday, we strongly encourage that you begin to explore downtown Shepherdstown for dinner. There are some truly yummy options (we highly recommend the Blue Moon Cafe). After we all eat dinner wherever that may be, we'll have a casual "ice cream" social at the Sweet Shop, that will be taking MATES vouchers for dessert and / or coffee. Note: they do not serve ice cream. Hang out, meet old friends and new.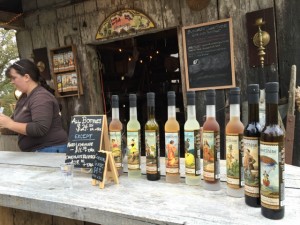 After breakfast Saturday, there will be a 9 a.m. mass-start. If you happen to have time to kill after your ride, consider visiting Bloomery Plantation Distillery (if you did not already visit it on Saturday's ride – think West Virginia's answer to a winery), a tubing adventure, or an un-bike-laden exploration of Harpers Ferry.
Saturday evening's get-together will begin at 5 for "cocktails" and light pre-dinner fare. Dinner should start between 6 and 6:30. Included in the MATES registration, you should have one voucher per rider to spend at the otherwise cash bar. Dinner will be a buffet with a chicken, beef, and vegetarian option.
There will be another mass-start on Sunday after breakfast, and shorter rides this day will take you to Antietam. Your MATES registration will then provide box lunches for your ride home.
For those who wish to extend their visit on this end, MATES dovetails nicely with Bike Virginia this year.  They have a 3-day Mon / Tues / Wed option out of nearby Harrisonburg, VA.
Registration
Registration is full, but we have started a waiting list.  Take note we have limited space for 50 teams. The cost per person is $110 (includes 2 breakfasts, but does not include lodging).
Cancellation Policy:
Before May 27: Registration fee less 3% for PayPal transaction

From May 27 to June 17: Registration fee less $30/person

After June 17: We cannot guarantee any refunds (one week before the rally); however, if there is money left over from the rally, we may make partial refunds.
Lodging
The rally will be based at the Clarion Hotel & Conference Center – less than a mile's walk from the quaint downtown. We have arranged for a group rate of ~$94 per night (plus tax) which includes a full buffet breakfast. This special rate is available for  25 rooms each, 1 King or 2 Queen Beds, and will be available until Friday, May 27. When contacting the hotel to make your reservation be sure to request a room with the MATES Rally!
There are other options in Shepherdstown if the Clarion is not your style.  For a B&B, we love the Thomas Shepherd Inn, or if you are looking for a luxury stay then check out the Bavarian Inn.
Routes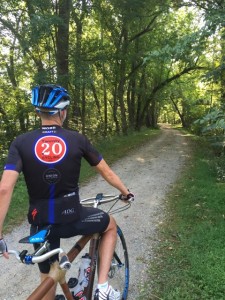 Below are the final routes. We are planning to have most rides start and end at the Clarion. Of course, you may want to stop short in town at least once for refreshments before meandering back to the hotel (again, less than a mile away). There are a variety of rides to choose from each day, both in length and in, let's say adventure. We mention adventure because some of the routes will include miles on the Chesapeake & Ohio Canal Towpath. If you are not familiar with it, the C&O Canal stretches 184.5 miles from Georgetown in Washington D.C. to just past I-68 in Cumberland, MD, and all along is the Towpath. The canal, built between 1828 and 1850, is not operational and has been drained and overtaken by the forest in many areas, but the towpath (where mules once towed barges on the canal) became a National Historic Park, and in sections is a nicely maintained (typically clay and crushed stone) recreational path.
While you should always ride prepared to take care of yourself with pump and tubes etc. if you opt for any of the longer towpath rides, plan ahead for the rougher terrain. It can be done on skinny tires but a little extra girth gives extra comfort on the towpath. Armored tires like Specialized Armadillo, Continental Gatorskin and Bontrager Roubaix are a good idea, and if you have room for it, an extra tire could come in handy. We rode the minimum 1 mile stretch for the long Friday option on 23c tires and an aggressive road bike just fine. But in a long day of exploration on 35c tires and a comfy bike, found that 30mi on the towpath was a bit much.
There is a one-stop-shop for all the routes on Ride-W-GPS under the ETR club page.  Also, the names below link to the individual Ride-W-GPS routes and the miles / feet link to a PDF cue sheet.  You could also (if you so choose) use Ride-W-GPS to customize your own version of the cue sheet. We'll have print-outs of the Saturday and Sunday cue sheets for you at checkin and the Thursday and Friday ones available in the lobby, so if the standard one is OK, then by all means save paper and just use ours.
The naming convention for the rides listed below is designed to be user-friendly when you have downloaded many routes into your GPS where you probably have limited space available for the name.
For example this name 16M-23Thu-M30-MtZion would break out to:
* Identify the year and event: 16M = 2016 MATES
* Sort in time order and identify the day of the ride: 23Thu = Thursday June 23
* Show the relative and approximate length: M30 = mid-length ride of the day, approximately 30 Miles
* Give a useable conversational name: What ride are you doing? We are riding MtZion.
Thursday
16M-23Thu-L41-Fairplay 40.9mi / 1935ft
16M-23Thu-M32-Fairplay-Remote 31.7mi / 1444ft
16M-23Thu-S18-Keedysville-Remote 18.4mi / 942ft
We are really torn. These Thursday routes are BEAUTIFUL, and we hope you can make time to ride one or two! They essentially ride around Antietam (which you will ride through on Sunday). Since we figure you would likely do them on your way into town, we made them mostly remote-start to keep the distance down. The remote-start routes are planned for you to park at the Antietam visitor center. There is ample parking and bathrooms to change, and if you don't have a National Park pass already, you can pay the entrance fee to the park which is good for 3 days. The long version just rides from the hotel to the medium route.  It's good for extra miles, but you won't have missed anything if you opt for the medium.
We will have a selection of these queue sheets printed and available at the lobby of the Quality Inn on Thursday (to where most of you coming for Thursday got moved).
Friday
16M-24Fri-X50-Harpers-RedHill 50.2mi / 3462ft — 1mi on the towpath
16M-24Fri-L40-Harpers-TregoMtn 39.9mi / 2483ft — 1mi on the towpath
16M-24Fri-M33-Harpers-C&O 33.4mi / 1555ft — 6.6mi on the towpath
16M-24Fri-M32-Harpers 32.1mi / 1992ft — 1mi on the towpath
16M-24Fri-S22-Harpers-Remote 21.6mi / 1413ft
These medium and long routes go to Harpers Ferry, and then cross the Potomac to return on the MD side. They rank high on the adventure scale due to the pedestrian bridge-crossing where you descend a spiral staircase, and some portion on the C&O Towpath. Take your time and be cautious today. There are several steep descents, and some large potholes as you come into Harpers Ferry. All are marked on the queue sheets with a warning icon so pay attention!
We are planning to have hired help at the spiral staircase from 11AM through 2PM to assist with taking your bike down from the bridge. If you think you would need this help, plan to arrive in that window. Also, plan for some time to stop and look around … maybe stop off for lunch. We believe the trip through Harpers Ferry is well worth the adventure!
If you are REALLY daunted by the spiral stairs and towpath, we have added a short remote-start option to get into Harpers Ferry from Shenandoah Junction and back with none of the adventurous obstacles. You still get to check out the historic town (and ride a little more of it actually) but you will have some unavoidable re-tracing of roads.
The two medium routes have appreciably different character due to the significant towpath distance on one vs. the additional climbing on the other. You get to pick your poison … quite flat but a bit bumpier on the towpath, or more pavement but a few more hills.
We checked out the eXtra challenge route on Memorial Day with Mike and Caren. It had been the long option, but it proved to be quite difficult, so we bumped it up and made the easier long route we now have. If you choose the eXtra challenge route — BE FOREWARNED — it has many very steep grades with sharp turns! Ensure your brakes are in top working order!! The name Red "Hill" belies the difficulty of the 3rd category climb that awaits as you approach mile 40 … 1.5 miles at 7% grade.
We will have a selection of these queue sheets printed and available at the lobby of the Clarion Hotel on Friday.
Saturday
16M-25Sat-X101-Century 101.0mi / 4791ft — this is essentially a reverse of the Back Roads Century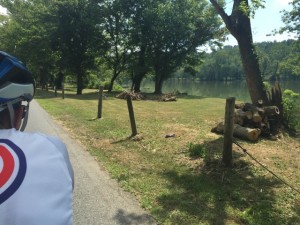 16M-25Sat-L63-Metric 63.4mi / 2577ft
16M-25Sat-M47-Kabletown-Bloomery 47.2mi / 1877ft
16M-25Sat-S34-Bloomery 33.8mi / 1538ft
As usual, these are all the longest ride options since everyone has the full day. We are throwing in an eXtra challenge stolen from the Back Roads Century … just over 100 if your team is up to it! Keep in mind that there is not any SAG support or pit stop. Your team will get a nice selection of Honey Stinger energy chews, gels, waffles and bars when you check in. Make sure you take some along, and the route maps have locations of convenience stores at appropriate intervals marked, so you can plan your hydration and refueling needs. On the queue sheets the stores have a square icon instead of a directional arrow.
Although it's not an official pit stop, a rendezvous point on all the routes is the Bloomery Plantation — Sweet Shine — Distillery. It is marked on the queue sheets with a flag icon. They have a 2/10 mile long gravel drive but there are free Sweet Shine tastings and places to sit and rest in the shade of their rustic setting. There isn't likely to be any food available though … stop in at Charlie Browns first (a half mile before Bloomery) if you need something to munch on or non-alcoholic refreshments. Also, we'll be trying to arrange with the distillery to deliver any purchases you may make to the hotel. The tastings are worth it folks. And teeny-tiny, in case you're wondering …
When you get back to Shepherdstown today, the Street Fest will be in full swing on the central two blocks of German Street. This is "one of the best fine arts & craft festivals in the region" and "a festival about all that is unique, artistic, and welcoming in Shepherdstown" including live music and food vendors. We didn't know when we picked our rally dates that we would coincide with the Street Fest, but consider ourselves very lucky that Shepherdstown has decided to throw us a party! That said, you may find you need to dismount and walk the bike through the crowds or detour around the fest if you would rather visit it after getting cleaned up.
Sunday
16M-26Sun-L35-C&O-Slackwater-Antietam 35.0mi / 1477ft — 8.5mi on the towpath
16M-26Sun-M25-C&O-Antietam 24.8mi / 1198ft — 4.1mi on the towpath
16M-26Sun-S21-Antietam 21.0mi / 1152ft
The focus today is on Antietam.  Like Friday, the more adventurous options have more miles on the towpath, but all the rides go through the heart of the Antietam National Battleground. We encourage you to stop in at the visitor center and support your National Parks, but there is no entry gate to collect fees when riding through the battleground.

X-Files
16M-X18-GolfCourse 17.8mi / 634ft
16M-X24-SwanPond 24.1mi / 937ft
16M-X36-Boonsboro-Remote 35.6mi / 3640 ft
These are just some extra rides just for the fun of it.  The first two are shorter to add onto another short day if you felt like it. The last is a remote start climber's delight that visits the original Washington Monument erected in 1827. Full disclosure, we haven't ridden this route yet, but I'd wager there are probably 4 categorized climbs on it.
We will have a selection of these queue sheets printed and available at the lobby of the Clarion Hotel all weekend.
Meals
Breakfast tickets (for Saturday and Sunday) are provided for those staying at the Clarion. If you stay elsewhere, you are on your own.
Honey Stinger energy snacks to fill your pockets for the rides.
Friday dessert at the Sweet Shop.
Saturday dinner buffet banquet (cash bar, with one 5$ drink voucher) at the Clarion.
Sunday boxed lunch for the drive.
Nearby Attractions
Antietam National Battlefield
Hiking, river tubing, and rafting
Harpers Ferry: history, kitsch shopping, and headquarters of the Appalachian Trail
Breweries and distilleries
Charlestown Races and Casino
Joel and Lacey are your rally organizers.
If you have questions, please email us at mates2016wv@gmail.com.