Spring Thaw at Cambridge, MD Thursday, May 4, 2017 to May 7, 2017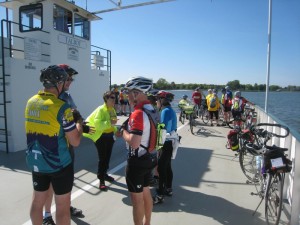 Once again, Potomac Pedalers will host and partner with Eastern Tandem Rally to show off the wonderful Eastern Shore cycling. Spring Thaw is a regional cycling event and attracts many people from the East Coast and Mid-West. Four days of riding: no hills, sparse traffic, wide shoulders. Perfect for getting back into cycling after a long winter.
Routes will lead to the water with spectacular scenery among world-class environmental ecosystems. The Saturday ride will include the Six Pillar Century (entry price will be included in the weekend price), which visits the Blackwater National Wildlife Refuge. (The Six Pillar Century also has rides shorter than 100 miles for those not up to the full distance.)
The weekend includes: Thursday evening pizza dinner; lunch on Friday; Friday evening ice cream social; Six Pillar Century registration on Saturday and lunch (as part of the century); Saturday night dinner and entertainment.
You are on your own for breakfasts, lunch on Thursday, dinner on Friday.  The Holiday Inn and some of the other hotels in the area include a complimentary breakfast. The Holiday Inn will have sign-up sheets for reservations and discounts for group dining.
Because we are using the hotel's conference facility, capacity is limited to 100. 
Registration is now open. Click here to see more info and register.
Save