Spring Thaw at Cambridge, MD Thursday, May 5, 2016 to May 8, 2016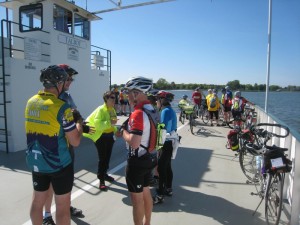 Once again, Potomac Pedalers will host and partner with Eastern Tandem Rally to show off the wonderful Eastern Shore cycling. Spring Thaw is a regional cycling event and attacts many people from the East Coast and Mid-West. Four days of riding: no hills, sparse traffic, wide shoulders. Perfect for getting back into cycling after a long winter.
Routes will lead to the water with spectacular scenery among world-class environmental ecosystems. The Saturday ride will be with the Six Pillar Century (entry price will be included in the weekend price), which visits the Blackwater National Wildlife Refuge. (The Six Pillar Century also has shorter rides than 100 miles for those not up to the full distance.) We expect about one third single bikes and two-third tandems, but uni-cyclists are also welcome to join us.
You will need to make your own hotel reservations in Cambridge. The host hotel is the Holiday Inn (410) 221-9900. The event registration will include food, entertainment, routes, and century registration. Registration for the weekend will open in January. We are limiting the event to 100 to better fit the hotel facilities.
Registration is now open. Click here to go to the registration page.